Holy Week draws near, the Venetian lanterns of Liston and the Palace will glow purple in mourning for The Passion. The neighbourhood of Campiello, a labyrinth of cobbled alleyways and Venetian homes from the 17th and 18th centuries, will once again be redolent with Fogatsa (Corfiote Easter brioche made with kumquat liqueur). With spring in the air, islanders and guests will promenade arm-in-arm up and down the streets. You will wake on Holy Friday to the sound of funeral processions and lamenting music by Albinoni, Verdi, Mariani, Chopin, Beethoven and Wagner. Between noon and evening, thirty-three epitaphs (religious icons), one for each year that Christ lived on Earth, will parade through the cobbled streets and squares of the old quarter.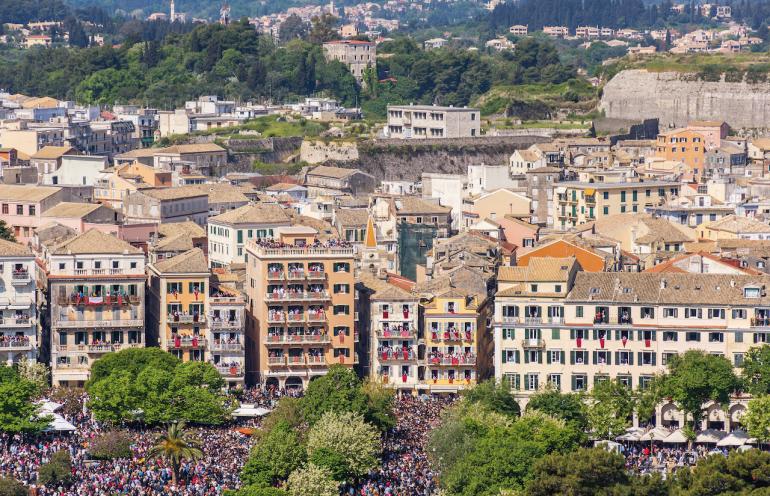 Children and teachers from local schools set a sombre ambience to the procession with their funereal pace. Some carry candles and lanterns, others standards and banners. Boy Scout and Girl Scout clubs are in attendance, as are small children carrying colourful baskets of flowers. When evening falls, the cathedral parades its epitaph through the streets among a sea of candles. Following are the three brass bands of Corfu Town: 'The Old Philharmonic' wearing red, performing Adagio by Albinoni, 'Mantzaros' wearing blue, performing Marcia Funebre by Verdi, and 'Capodistrias' performing Funeral March by Chopin. The music will beckon your gaze towards heaven.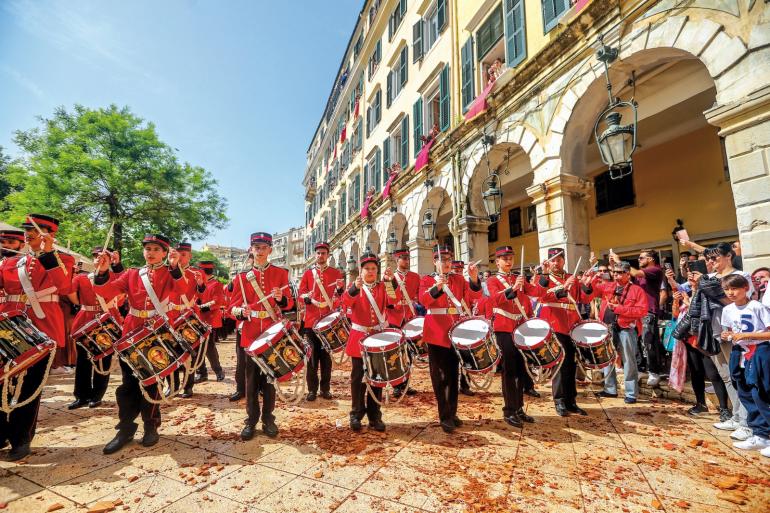 On the morning of Holy Saturday, you will make acquaintance with the entire island at the procession of the epitaph from the church of Agios Spyridon – the patron saint of Corfu. This is the oldest and most imposing litany. Leading the way are the holy relics of Saint Spyridon, upright and miraculous. Those in the streets will make the sign of the cross. Gold-fringed embroideries will hang from every window in Old Town. There will be music, an endless cascade of Calde Lacrimae and Marcia Funebre. Tradition calls for water-filled ceramics called Botides dropped from balconies and windows to shatter on streets below. People above and below will cheer and applaud, and you can't help but join them in casting out the devil from the pottery-strewn streets of Corfu Town.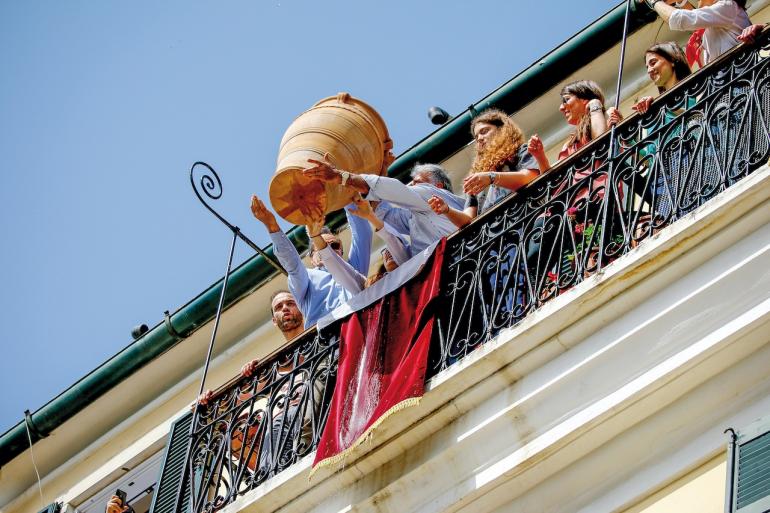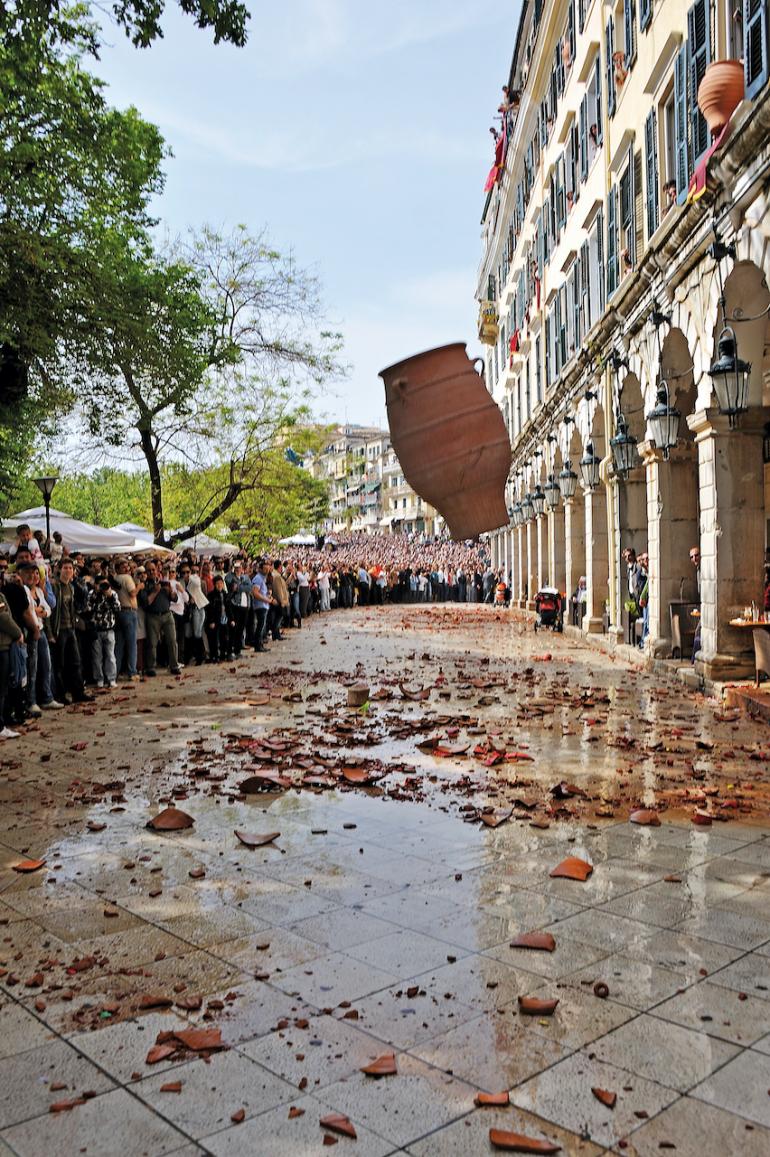 In the morning hours, the brass bands will play joyous music. When evening falls, as you head to the Upper Square for The Resurrection of Jesus Christ, Christos Anesti (Christ is risen) will be sung melodically. A multitude of lanterns will rise into the air in all their magnificence. The first fireworks will rain down from the Old Fortress. The night will turn to the day, joyful bells will ring, and kisses and hugs will be given in multitude on the streets and balconies of the capital. The celebration will go on till morning. The Corfiotes will end the Lenten fast with Tsilichourda (a soup made from lamb offal), red eggs and copious amounts of wine. When the sun rises, it will be Easter Sunday. On the breeze – lamb roasting on spits, ushering both spring and summer.