Sophisticated tastes, talented chefs and a cosmopolitan aura render Santorini's restaurants a vast scene of culinary art.
Begin exploring the island's exquisite culinary scene at Koukoumavlos. Now inside the luxurious Katikies Chromata Hotel in Imerovigli, the restaurant, helmed by talented chef Nikos Pouliasis, offers a captivating gastronomic experience inspired by Greek cuisine. Set amidst Cycladic elegance, the restaurant is writing its latest culinary chapter through the partnership between chef Pouliasis and the esteemed Ettore Botrini, the award-winning executive chef of the renowned Katikies Group. Together, they artfully transform local gastronomy into a symphony of refined, exquisite dishes delivering unparalleled quality and taste. The Ode to the Earth and the Sea, a recipe of scallops, seaweed, fennel and spicy green peppers, and the Santorini fava with bottarga, tarragon, orange and saffron, are outstanding.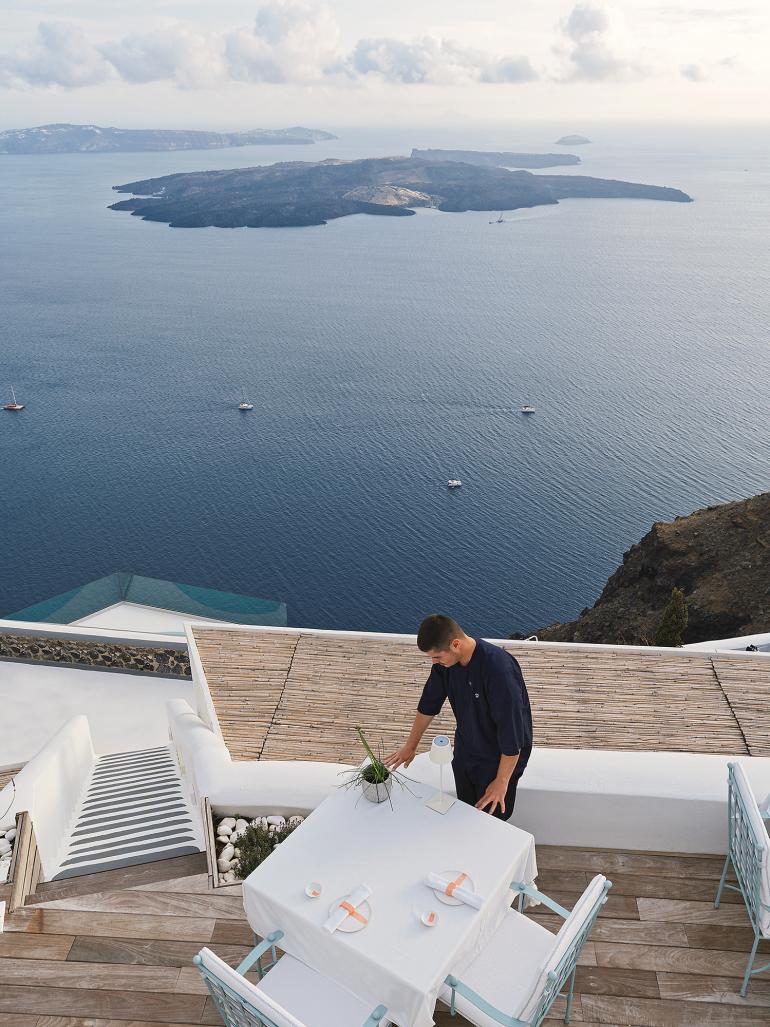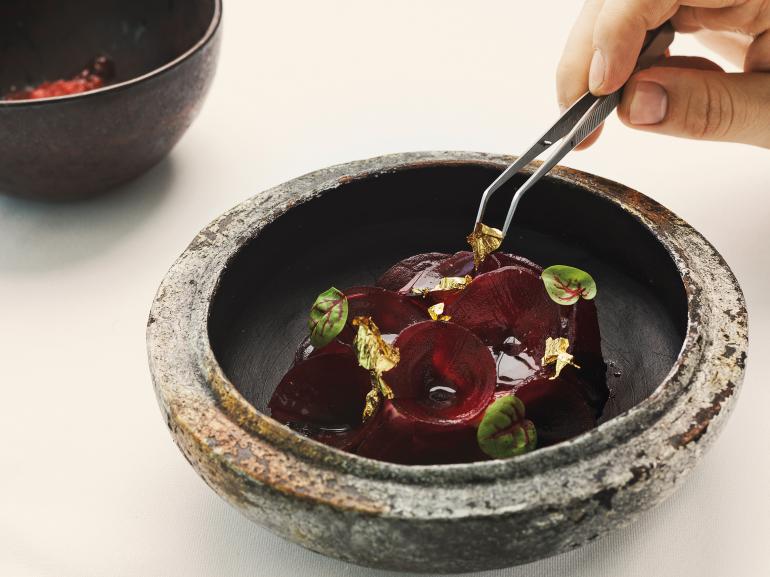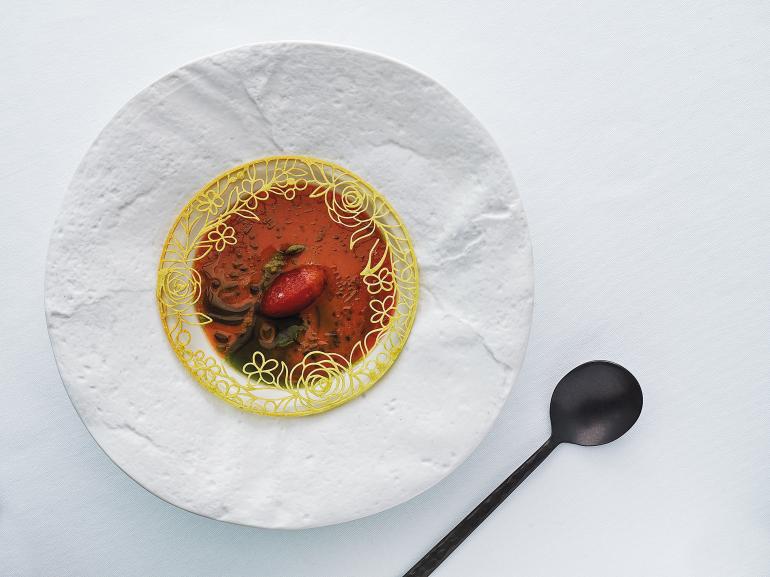 Another opportunity not to be missed is the esteemed Selene, an iconic restaurant nestled with-in the enchanting Katikies Garden Hotel in Fira. Continuing its rich heritage is the talented Ettore Botrini, who, in collaboration with Yiannis Karakasis, a distinguished Master of Wine –one of around 400 worldwide– presents an all-encompassing gastronomic journey that encapsulates the essence of Santorini. Within a meticulously restored 18th-century Catholic monastery, they resurrect local culinary traditions, offering a tasteful revival in an atmosphere of understated luxury.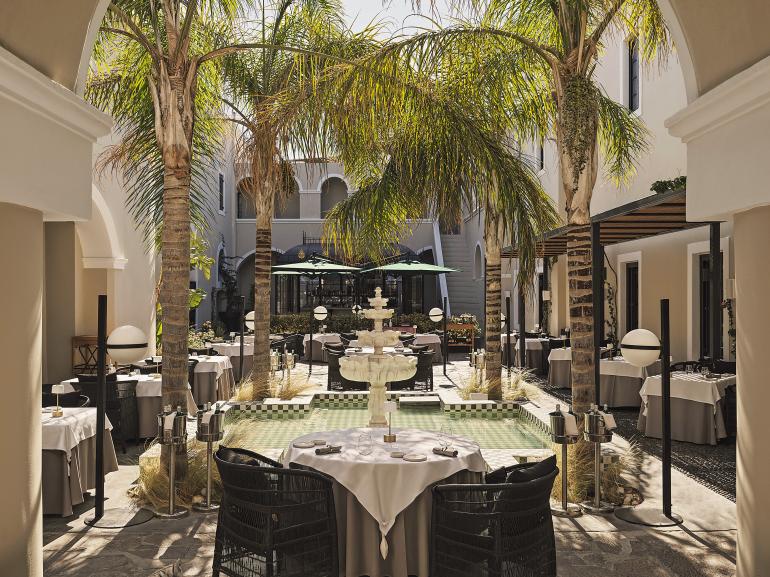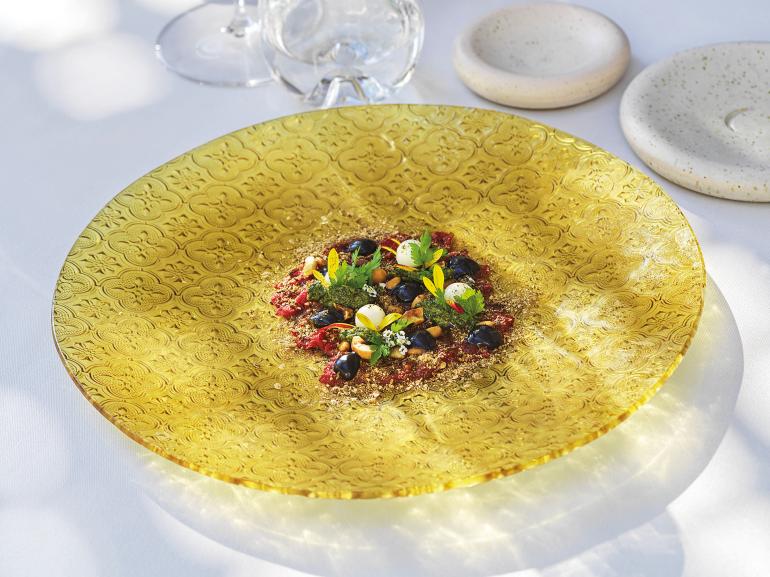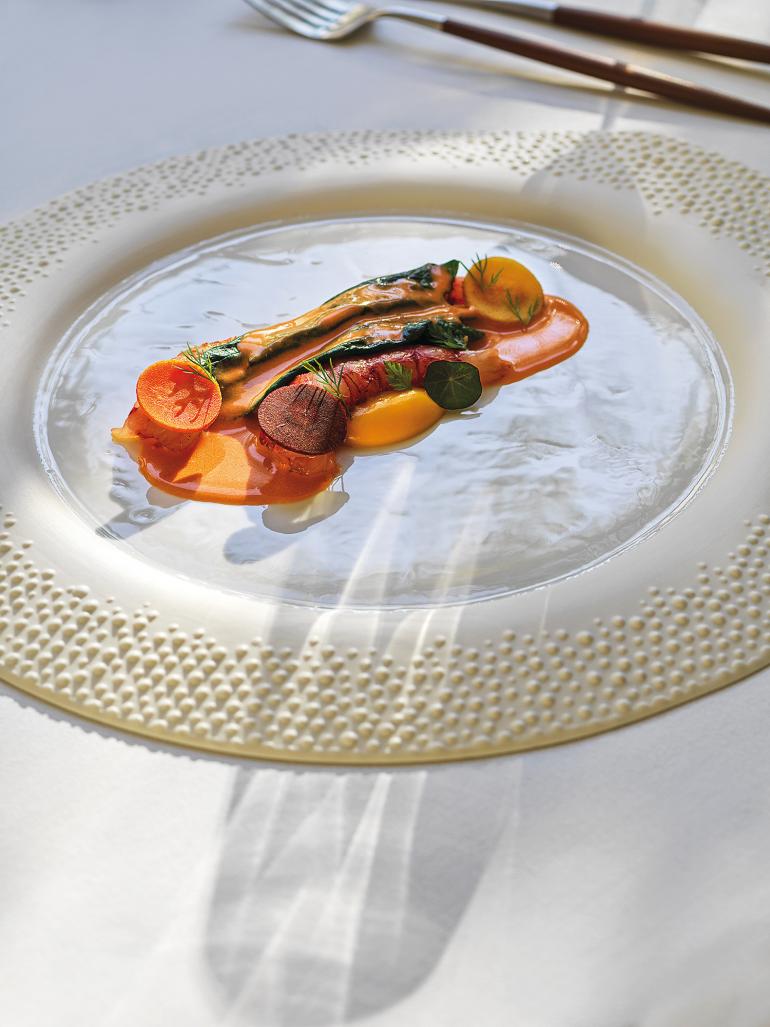 In the charming village of Imerovigli, Mavro Restaurant, a restaurant in Kivotos Santorini Hotel, proudly introduces its newest addition – the talented chef Dimitris Katrivesis. With a masterful touch, chef Katrivesis skillfully weaves a tale of seafood excellence, drawing inspiration from the bounty of local fishermen. The essence of communal dining, many of his creations are brought to life over an open fire, infusing them with an irresistible allure. To fully immerse oneself in his culinary philosophy, the tasting menus –The Full Moon Experience, The Half Moon Experience, and The Dark Side of the Moon Experience– offer an ideal opportunity to explore gastronomic narratives.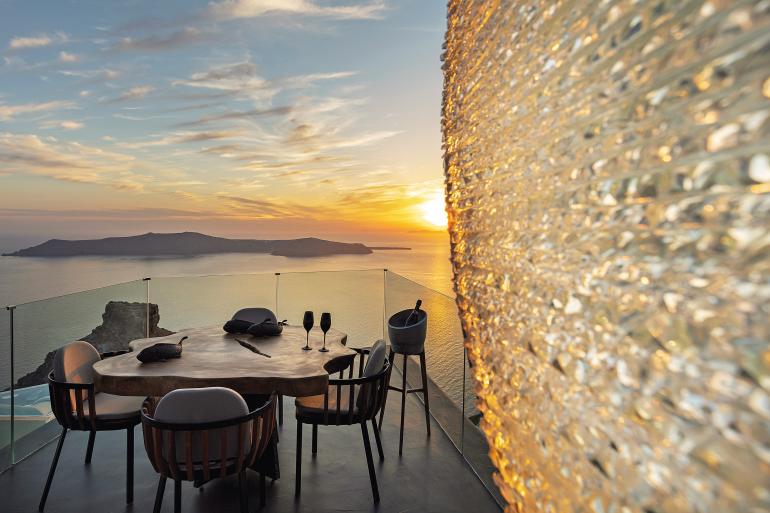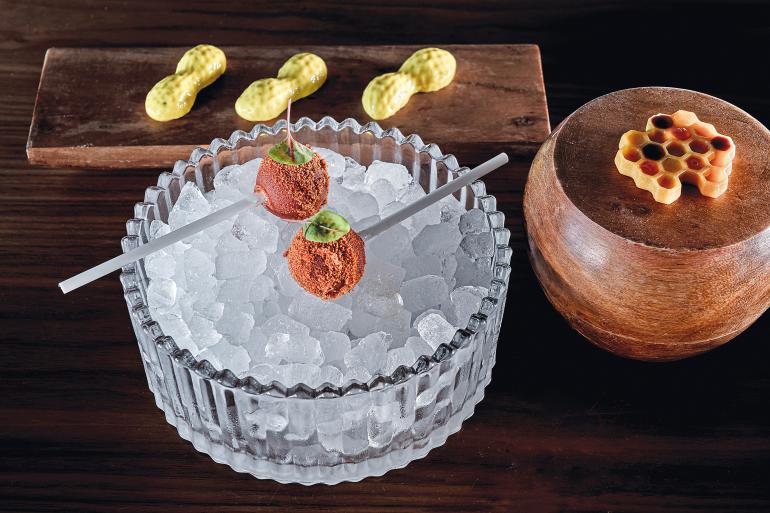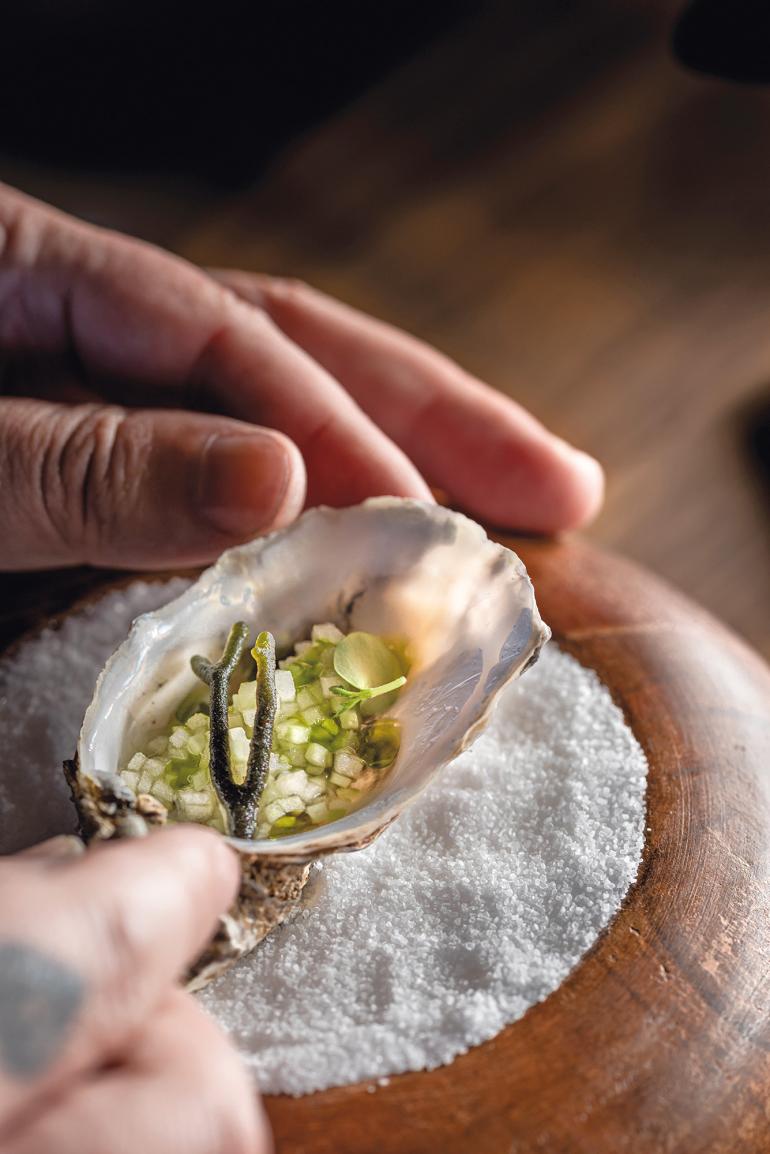 Following a decade of triumph in Athens, Vezené Santorini, now gracing the prestigious Cavo Tagoo Hotel, presents the innovative culinary vision of chef Aris Vezené and his fresh perspective on Greek cuisine. The establishment's main attraction is the Estia, a unique three-metre-long hearth. With the allure of an open charcoal fire, chef Vezené expertly grills Côte de Boeuf, onglet steak, succulent prawns, crayfish, lobster, and an array of delectable local seafood.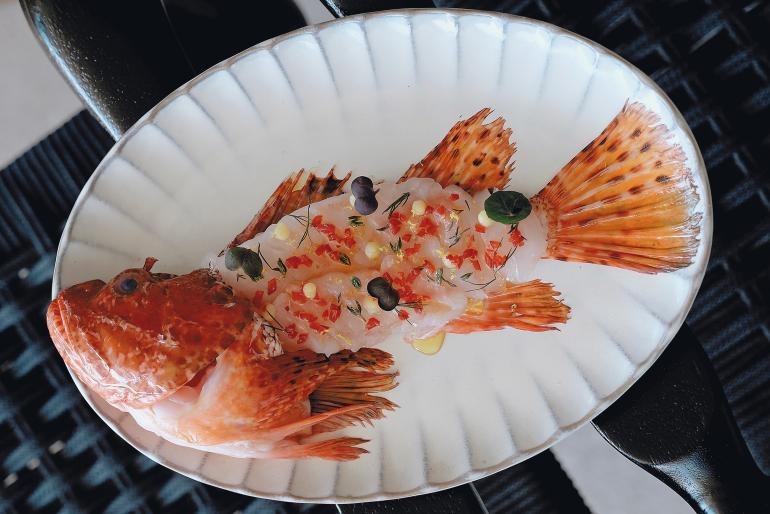 Varoulko Santorini, located within the renowned Grace Hotel, presents the culinary prowess of chef Lefteris Lazarou, whose profound passion for fish, seafood, and locally-sourced ingredients takes centre stage. Enjoy his signature dishes, such as squid adorned with Genovese pesto or the tantalising crayfish tartare enhanced with fragrant basil and zesty yuzu. The Caldera provides a stunning backdrop.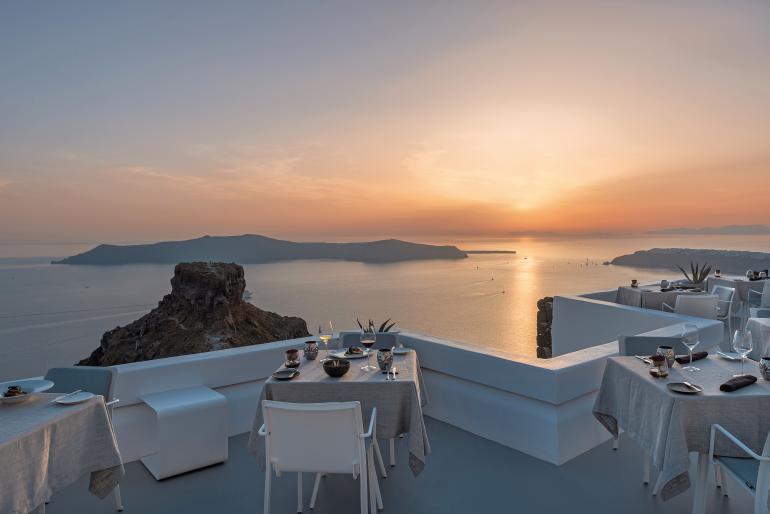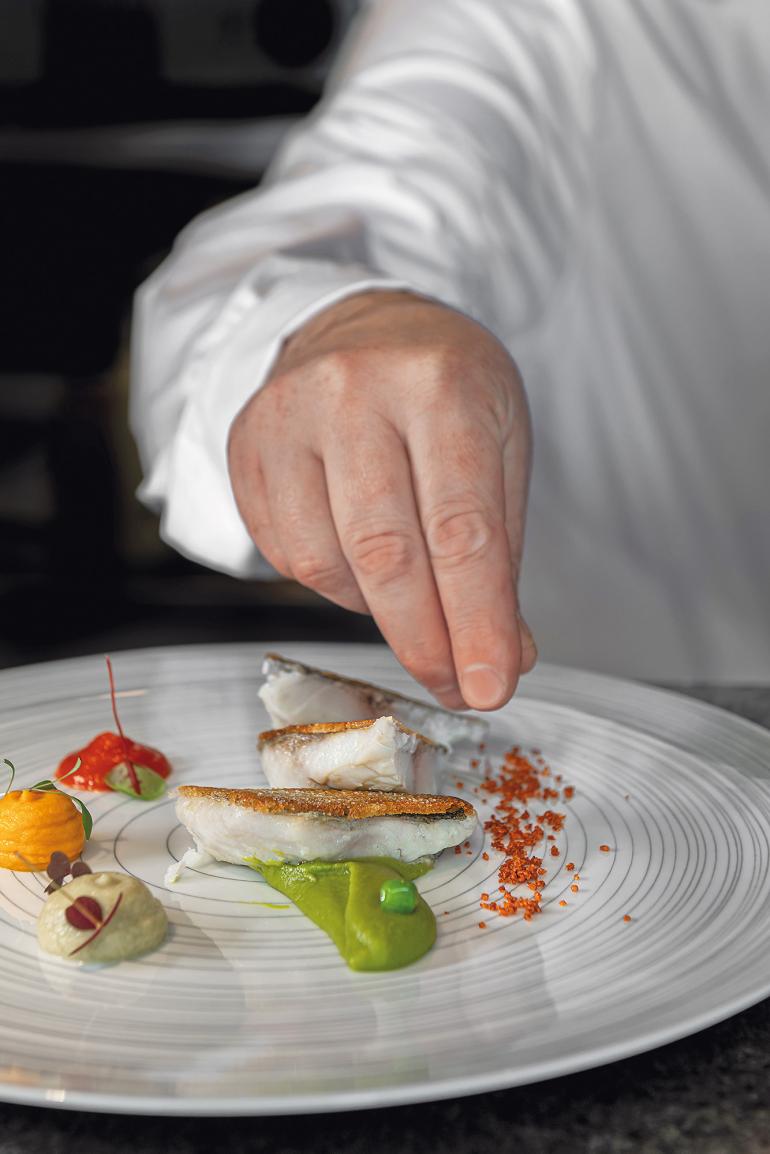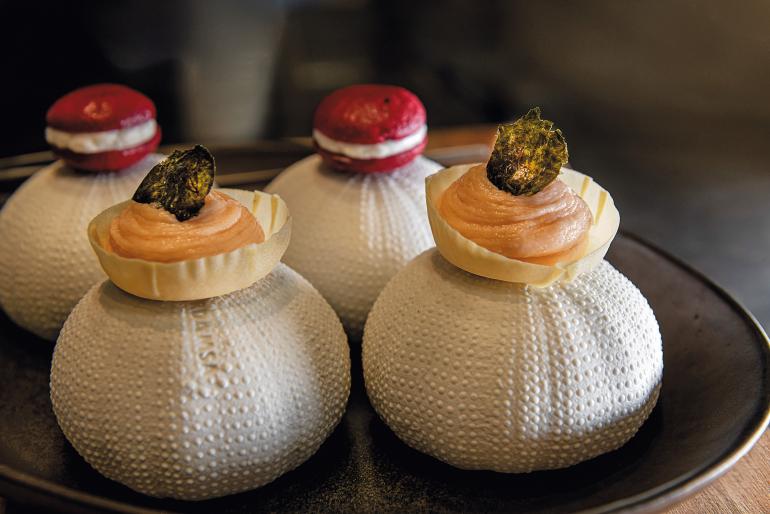 Lycabettus, a culinary destination at the Andronis Luxury Suites in Oia, is where chef Christos Karagiannis presents a creative fusion of Greek, Mediterranean, and international flavours. From mackerel with buttermilk sauce to amberfish with artichokes and champagne sauce, his dishes are innovative. Meat lovers can indulge in wagyu striploin with carrot panna cotta and short rib with beurre noisette (hazelnut butter) emulsion, among others.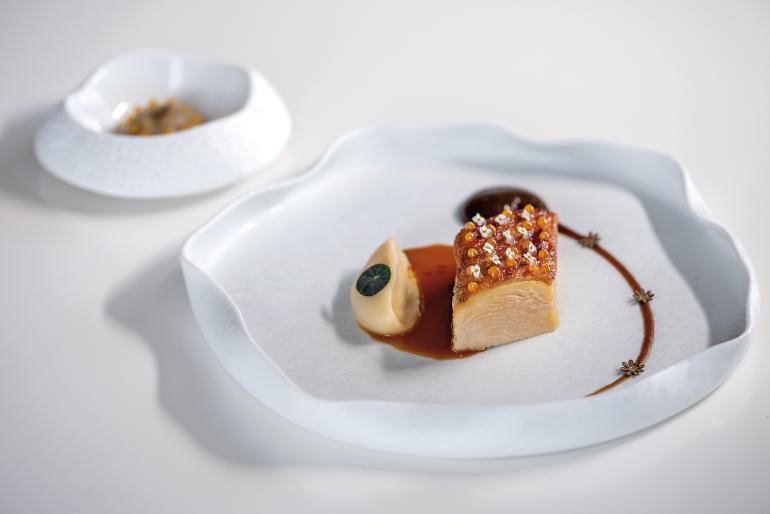 Elements, a multi-awarded restaurant led by executive chef Tasos Stefatos, showcases his distinctive culinary style through menus that blend Greek and international flavours, creating a delightful gastronomic journey.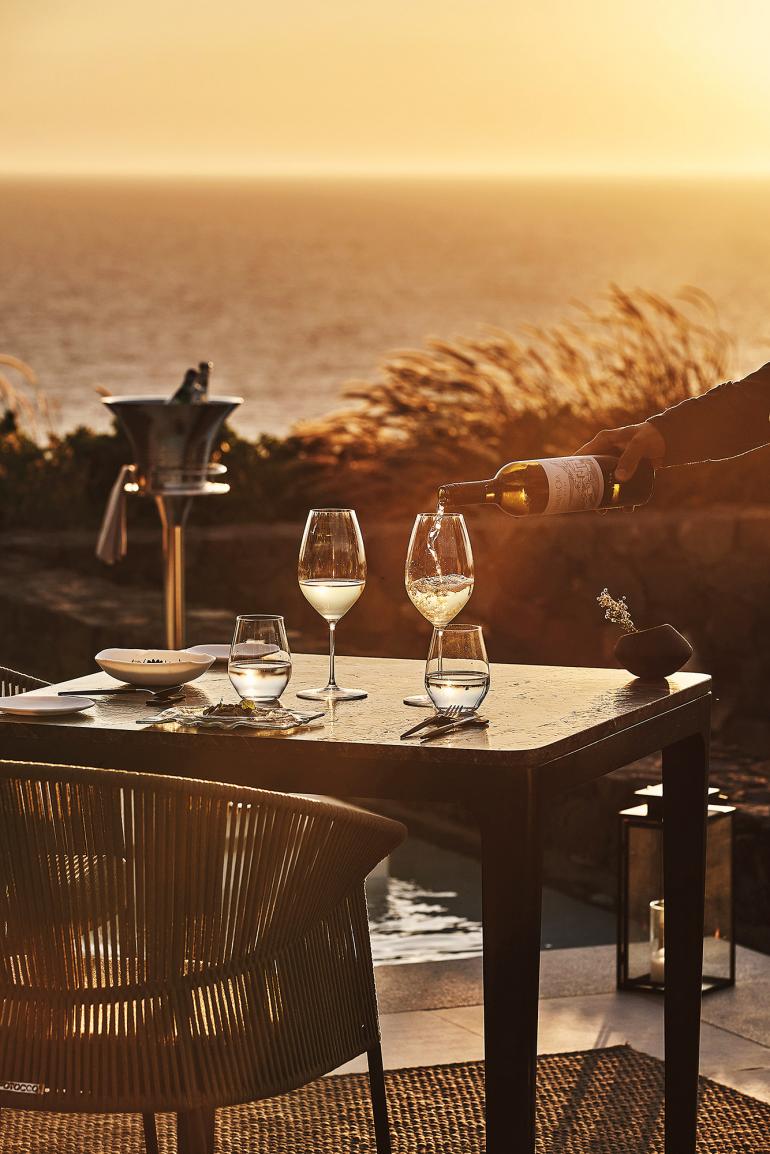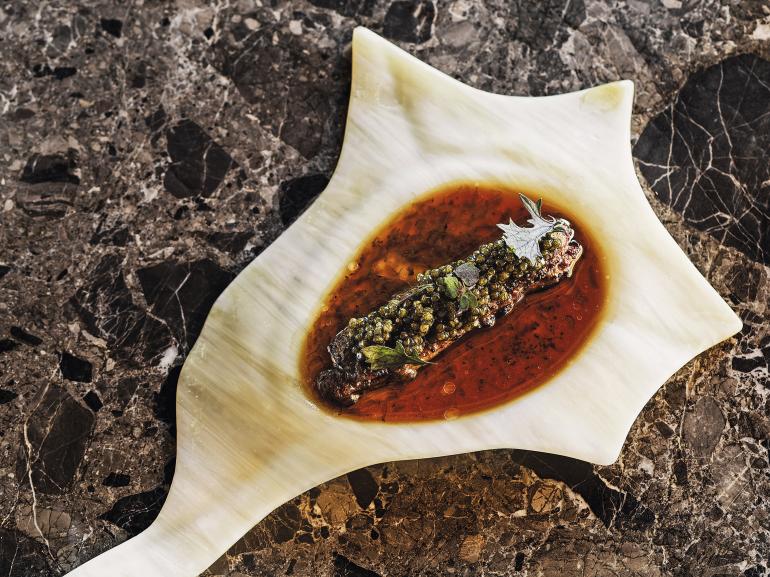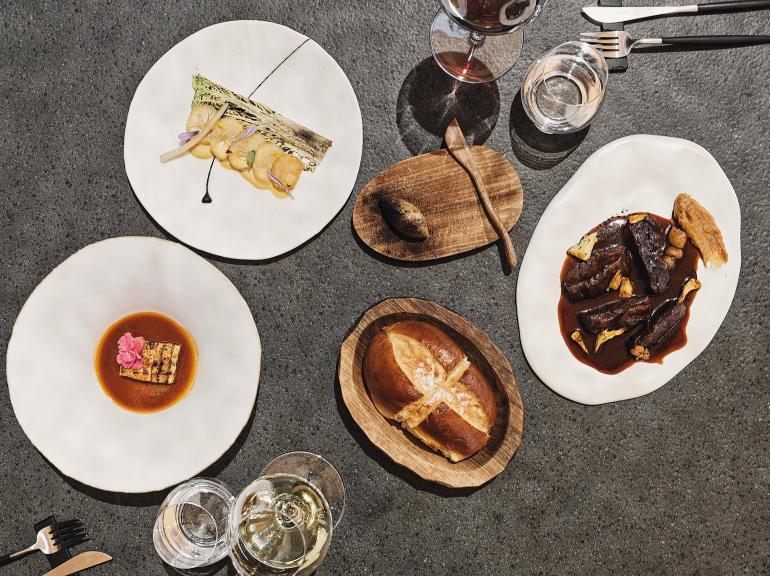 Meanwhile, at Axinos, a restaurant in the Rocabella Hotel, chef Giannis Parikos artfully infuses Aegean gastronomy with contemporary twists, resulting in a harmonious fusion of traditional and modern flavours.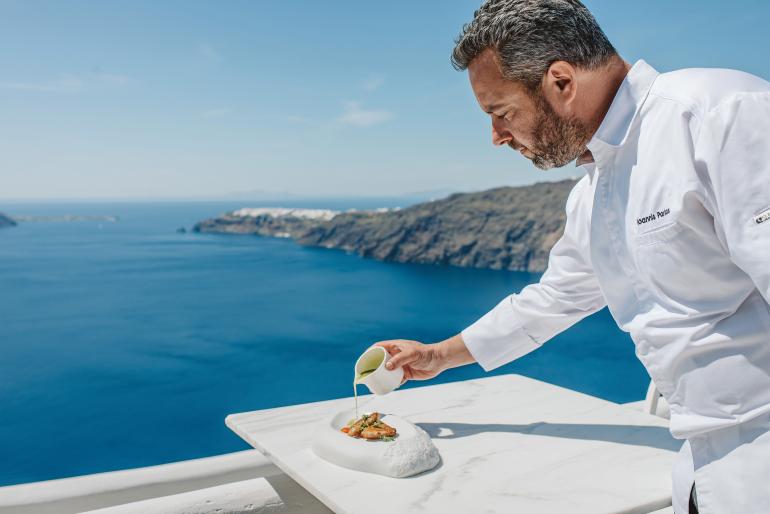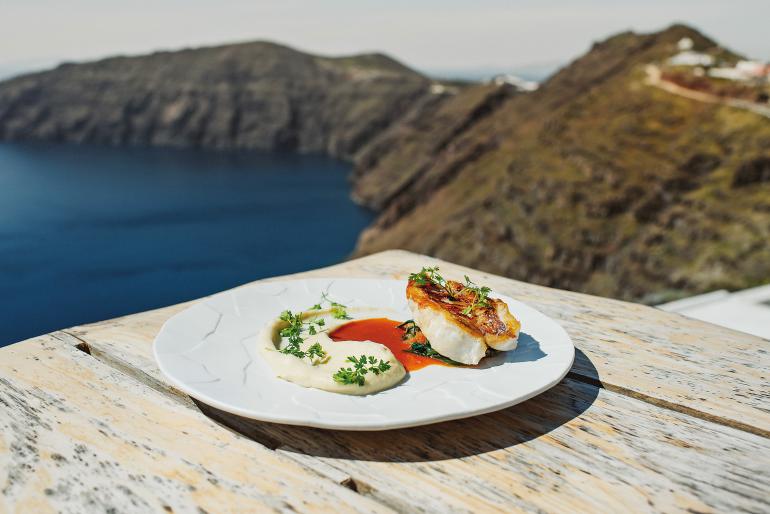 In the Astarte Suites Hotel, executive chef Adam Kontovas presents a cosmopolitan blend of Greek and international flavours at Alali. Wine pairings by sommelier Aris Sklavenitis complete the exceptional dining experience.
Bon appétit!
______________________________________
TEXT : ELEFTHERIA VASILIADI