Samian cuisine is influenced by flavours infused with a symphony of spices and aromas from Asia Minor.
Kremmidodolmades
In the enchanting village of Koumeika, a true gastronomic gem awaits. Their prized onions, with unique elongated shapes, meticulously braided into bundles, are transformed into delectable Dolmades. When boiled and blanched, their layers unfold. The layers are stuffed with a delicious mixture of rice, all spice, fennel, parsley and tomato paste. Finally, they go into a pot and cook in fragrant olive oil. It is a rare recipe for festivities in the Aegean.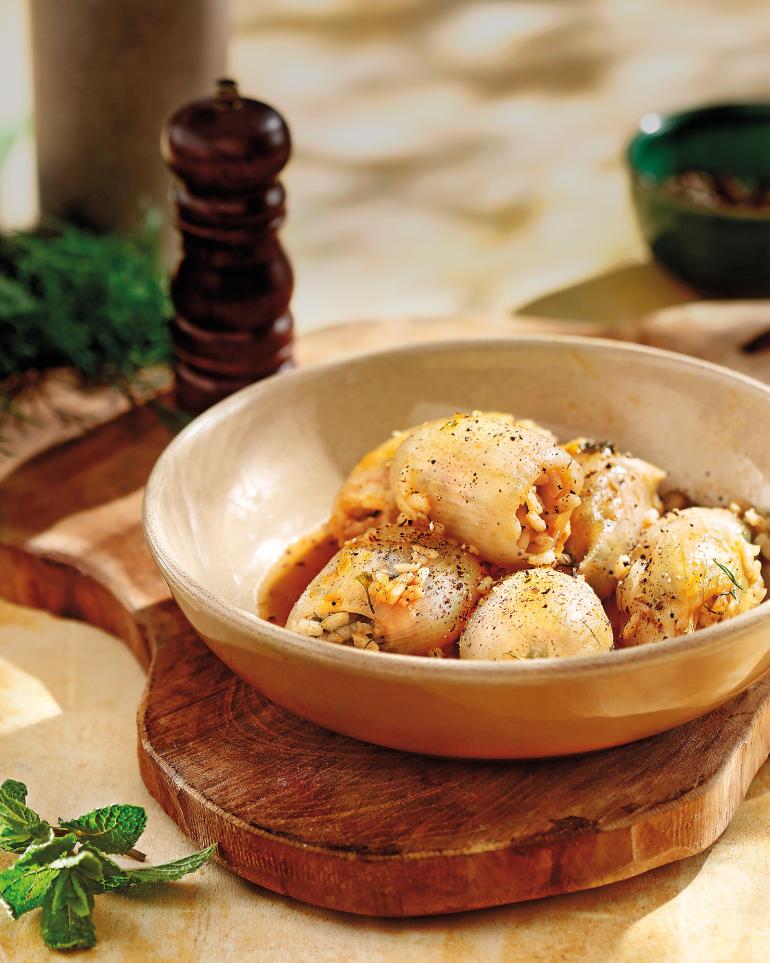 Revithokeftedes
Otherwise known as chickpea fritters, they are one of the classic dishes of the Aegean and a clever way to transform a few humble ingredients into a delicious, hearty and nutritious dish. Samian Revithokeftedes have a unique flavour. Chickpea purée is mixed with fresh, intense spring fennel, ouzo and sun-dried tomato paste before being fried in olive oil.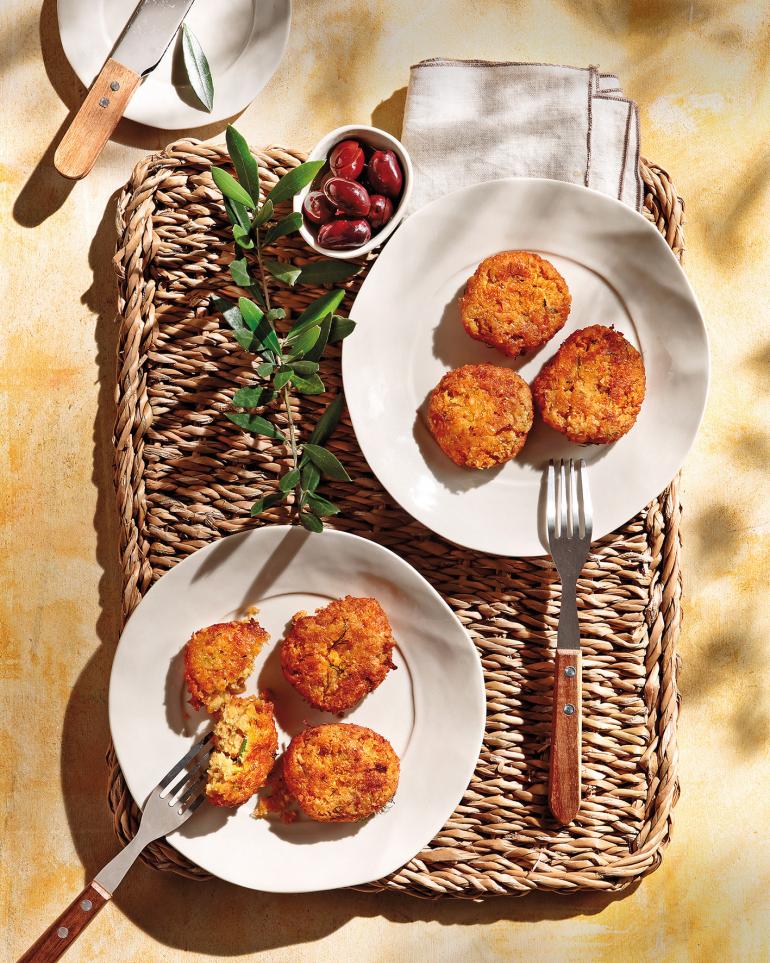 Giorti
A dish of celebration and joy with origins in ancient Greece, itis a minimal recipe of meat and wheat, symbolising abundance and prosperity, that graces local festivals. Men oversee colossal cauldrons perched over fires, meticulous in their preparation. Typically featuring succulent lamb, the meat is carefully diced and simmered with onions. Once tender, ground wheat is added to the cauldrons. Stirring with wooden spoons, they conjure a chewy porridge brimming with deliciousness.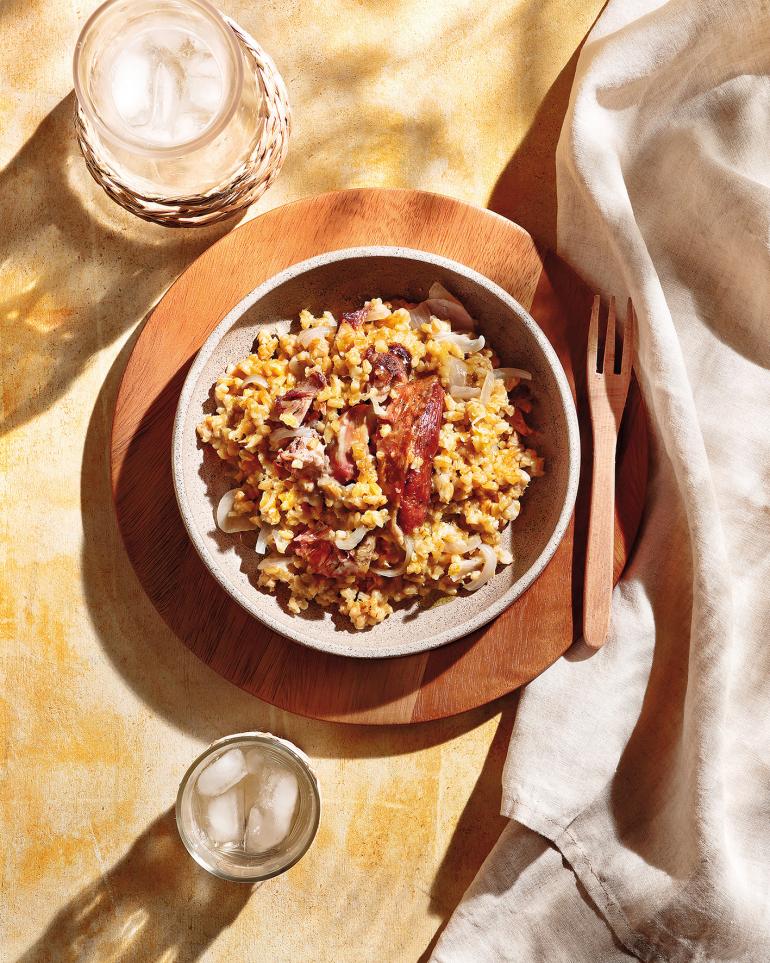 Katimeria
Also known as Samian pancakes, they are the quintessential treat cherished by children and offered by hosts to guests. These delicacies embody everyday life and festive occasions, transcending borders with variations throughout the Aegean. Crafted from yeast, water and flour –sometimes infused with aromatic ouzo or mastic– these doughy wonders become thin, circular pancakes sizzled in olive oil. Whether savoury or sweet, Katimeria are best when piping hot, straight from the pan.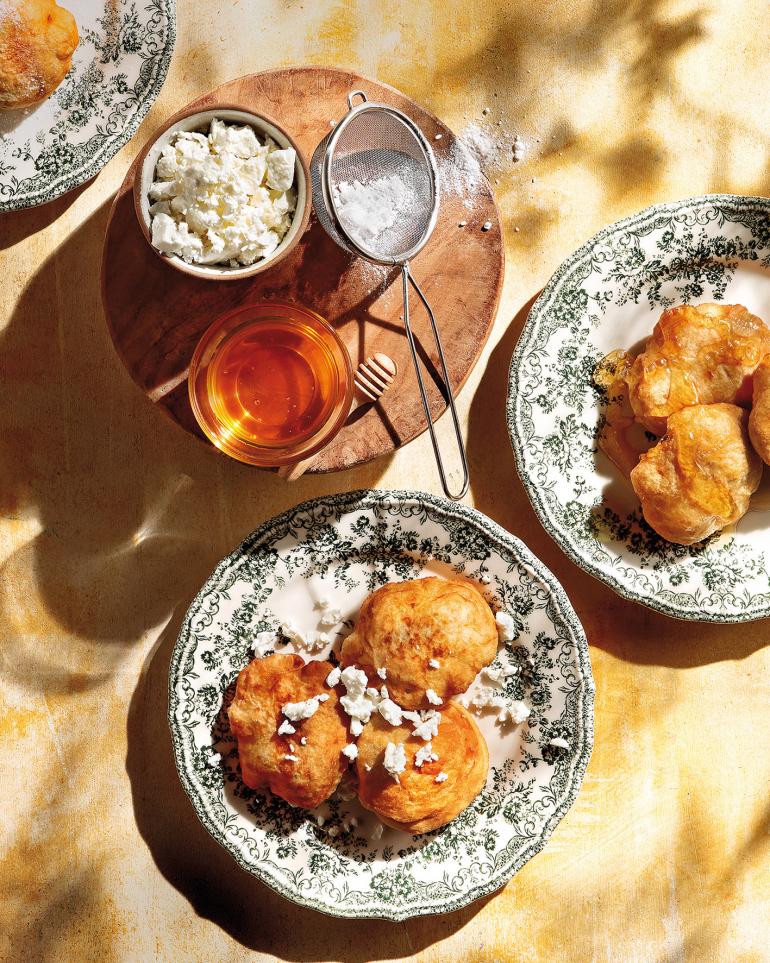 Stuffed Lamb
The festive entree of Easter is a labour of love, requiring hours of preparation and wood-fired ovens to achieve perfection. On the revered day of the Orthodox faith, no effort is spared in creating the most mouthwatering dish of the year. Lamb is stuffed with diced giblets, rice, spices, wine, fresh herbs, and onions. This exquisite combination is then covered and baked for hours in the oven, resulting in the most elaborate Greek recipe for lamb.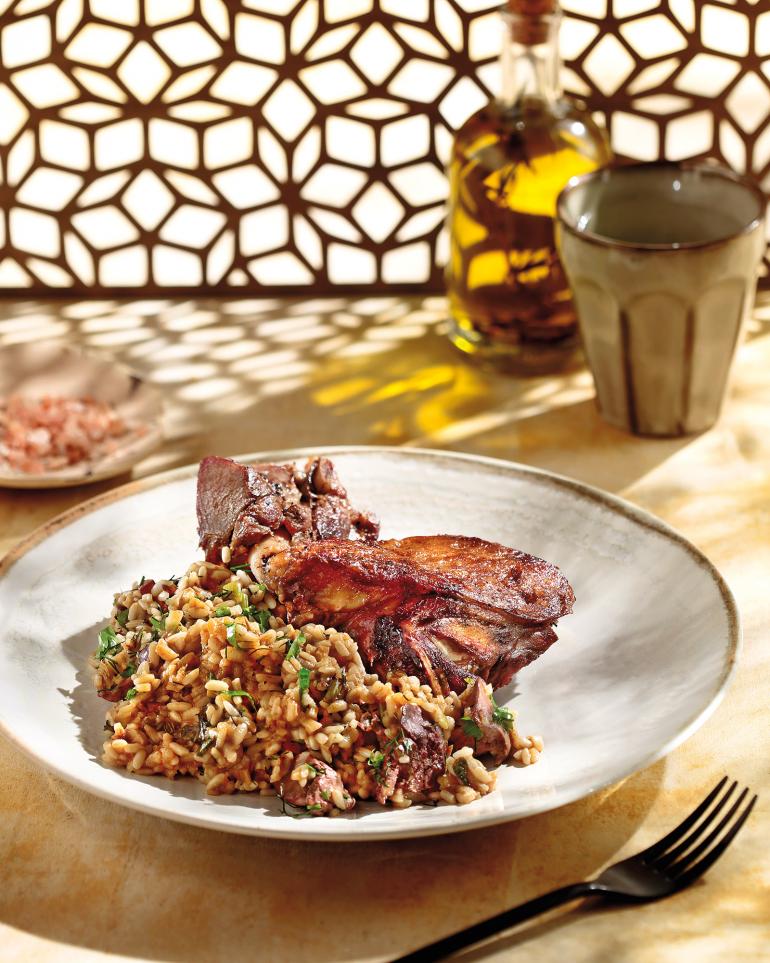 _______________________________________
TEXT: ELENI PSYCHOULI
PHOTOS: GEORGE DRAKOPOULOS
FOOD STYLING: MAKIS GEORGIADES
STYLING: KATERINA LYKOURESI