IN THE BLUE OF AMVRAKIKOS
If you seek a unique place of unparalleled natural beauty, Koronisia is an absolute must.
In the tranquil embrace of the Gulf of Amvrakikos lies a small island where time has frozen, creating an eternal, undisturbed union with serenity. This idyllic realm is the captivating Koronisia, also known as Pera Nisi. A slender strip of land extending between the Logarou and Tsoukalio lagoons creates a surreal sensation of walking upon a sea of cerulean blue. It serves as a maritime sanctuary connecting the town of Arta on the mainland to the heart of this mesmerising destination. Perched upon a hill, the circular settlement, inhabited by a mere 167 residents, offers a one-of-a-kind vantage point encompassing all of Amvrakikos. At the pinnacle stands the Byzantine church of Panagia, believed to have endured since the 7th century.
Fishing boats bring freshly caught seafood into the idyllic harbour, including renowned Amvrakikos shrimps. They are served at local tavernas amidst breathtaking landscapes full of rare avian in-habitants, such as the majestic wild stork. In August, enthusiasts of this unique land make their way to the festive celebration of Panagia, immersing themselves in age-old traditions and the vibrant sardine festival. Join them in the enchantment.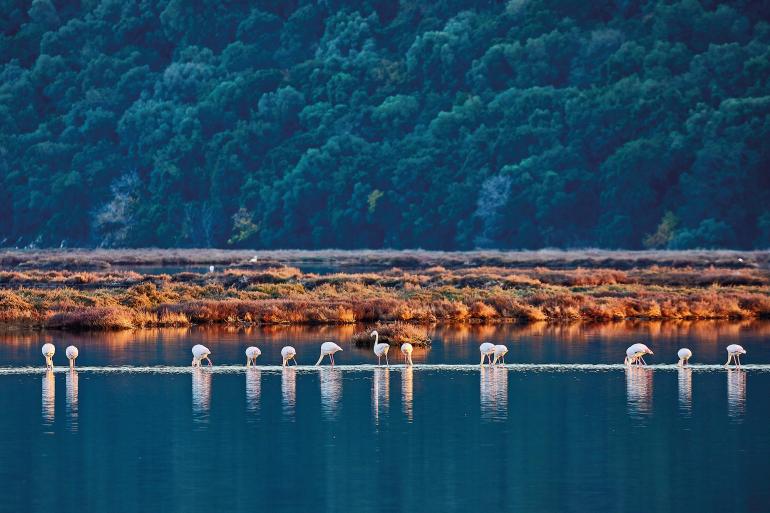 ______________________________________
TEXT : ALEXANDRA TSOLKA
PHOTOS : GEORGE TSAFOS